Airports Guides
Airports in North America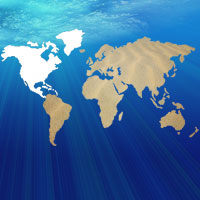 North America is located in the northern hemisphere and fills the majority of the western hemisphere. Lying to the south of the Arctic Ocean, west of the North Atlantic Ocean, and east of the Pacific Ocean, North America is almost completely surrounded by water.
Sited directly above South America, the continent of North America covers an area which is equivalent to almost 5% of the total planet's surface, occupying a major part of the landmass known as the New World.
Much of North America is dominated the United States of America (USA), with Canada situated to the north, Mexico to the south, and countless islands around the coastline.
Africa - Asia - Australia - Europe - Latin America - North America


AIRPORTS IN CANADA

Canada occupies the northern region of North America and is bordered to the south by the USA, to the north by the Arctic Ocean, to the east by the North Atlantic Ocean, and to the west by the North Pacific Ocean.

Divided into three territories and ten provinces, Ottawa is Canada's capital city, located in the state of Ontario, close to the Niagara Falls.



Calgary Airport (YYC) Montreal Pierre Elliott Trudeau Airport (YUL) Toronto Pearson Airport (YYZ) Vancouver Airport (YVR)

AIRPORTS IN MEXICO

The United Mexican States stand on the southern side of North America, with the Pacific Ocean situated to the west and the Caribbean Sea to the east.

A densely populated Spanish-speaking country, Mexico contains 31 different states and a main federal district, with Mexico City being the capital.

Cancun Airport (CUN) Cozumel Airport (CZM) Mexico City Airport (MEX) Puerto Vallarta Gustavo Diaz Ordaz Airport (PVR)

AIRPORTS IN USA

The USA is the world's leading country and comprises 50 different states, which include both Hawaii and Alaska. Standing in North America, the United States lie between the Pacific Ocean and the Atlantic Ocean, edged by Canada to the north and Mexico to the south.

An important federal republic, the United States of America contains many enormous cities, nine of which feature a population exceeding one million.

Washington DC is the capital of the USA, home to the White House, although New York is actually much larger, being the country's biggest city.



Albuquerque Sunport (ABQ) Anchorage Ted Stevens Airport (ANC) Atlanta Hartsfield Airport (ATL) Austin Bergstrom Airport (AUS) Baltimore Washington Thurgood Marshall Airport (BWI) Baton Rouge Airport (BTR) Birmingham Airport (BHM) Boise Airport (BOI) Boston Logan Airport (BOS) Buffalo Niagara Airport (BUF) Canton Akron Airport (CAK) Charleston Airport (CHS) Charlotte Douglas Airport (CLT) Chicago Midway Airport (MDW) Chicago O'Hare Airport (ORD) Cincinnati / Northern Kentucky Airport (CVG) Cleveland Hopkins Airport (CLE) Colorado Springs Airport (COS) Columbus Port Airport (CMH) Dallas Fort Worth Airport (DFW) Dallas Love Field Airport (DAL) Daytona Beach Airport (DAB) Denver Airport (DEN) Detroit Metro Airport (DTW) El Paso Airport (ELP) Fort Lauderdale-Hollywood Airport (FLL) Fort Myers Southwest Airport (RSW) Greensboro Piedmont Triad Airport (GSO) Honolulu Airport (HNL) Houston George Bush Airport (IAH) Houston William P Hobby Airport (HOU) Indianapolis Airport (IND) Jacksonville Airport (JAX) Kansas City Airport (MCI) Knoxville McGhee Tyson Airport (TYS) Las Vegas McCarran Airport (LAS) Los Angeles Airport (LAX) Louisville Airport (SDF) Memphis Airport (MEM) Miami Airport (MIA) Milwaukee General Mitchell Airport (MKE) Minneapolis St Paul Airport (MSP) Nashville Airport (BNA) New Orleans Louis Armstrong Airport (MSY) New York John F. Kennedy Airport (JFK) New York LaGuardia Airport (LGA) Newark Liberty Airport (EWK) Oakland Airport (OAK) Oklahoma City Will Rogers World Airport (OKC) Orlando Airport (MCO) Orlando Sanford Airport (SFB) Palm Springs Regional Airport (PSP) Pensacola Regional Airport (PNS) Philadelphia Airport (PHL) Phoenix Airport (PHX) Pittsburgh Airport (PIT) Portland Airport (PDX) Raleigh-Durham Airport (RDU) Reno Tahoe Airport (RNO) Richmond Airport (RIC) Sacramento Airport (SMF) Salt Lake City Airport (SLC) San Antonio Airport (SAT) San Diego Airport (SAN) San Francisco Airport (SFO) San Jose Mineta Airport (SJC) Sarasota Bradenton Airport (SRQ) Savannah Airport (SAV) Seattle Tacoma Airport (SEA) St Louis Airport (STL) Tampa Airport (TPA) Tucson Airport (TUS) Tulsa Airport (TUL) Washington Dulles Airport (IAD) Washington Ronald Reagan Airport (DCA)
Continent Map of North America