Discover the World
(Airports Guides)
Airports Guides - detailed guides to almost 300 major airports around the world. Designed to assist with all aspects of your journey, Airports Guides is one of the world's largest and most comprehensive airport travel sites.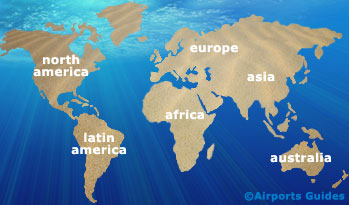 Airlines and Terminal information - including departure and concourse areas
Directions and Maps - detailed directions both to and from the airport
Airport Ground Transportation - the various public transport options available
Airport Car Rental - firms currently operating, together with online booking
Airport Facilities - including shops, duty-free, restaurants and information desks
Airport Hotels - large selection of discounted hotels close to the terminals
Car Parking Information - short-term and long-term parking options and pickups
City Information - top tourist attractions and places to visit
Airports Guides also provide a large selection of discounted flights at all the main airports around the world, which can be booked online. Please refer to the relevant list of continents and countries below to find the latest information about your airport.
AIRPORTS IN AFRICA

Africa has long been one of the biggest continents in the world, both in area and also population. With almost 900 million people, Africa is home to 12% of the planet's human population. The continent of Africa features a mixture of weather, which has resulted in a truly diverse landscape of contrasting arid deserts and lush jungles.

Africa is surrounded by the Indian Ocean to the east, the Atlantic Ocean to the west, and by the Mediterranean Sea to the north, which separates the continent of Africa from the southern coast of Europe.

The main airports located in the continent of Africa include South Africa's Cape Town Airport (CPT), and Durban Airport (DUR), Johannesburg Airport (JNB), and Egypt's Cairo Airport (CAI) and Luxor Airport (LXR).


Egypt&nbsp South Africa&nbsp

AIRPORTS IN ASIA AND THE MIDDLE EAST

The continent encompassing Asia Pacific and the Middle East contains many of the world's most beautiful and appealing locations. Much of the continent is divided into enormous regions and territories, including Southern Asia - which contains India, and Eastern Asia - comprising China, Japan and Mongolia.

The most popular airports in Asia include Beijing Capital Airport (PEK), Hong Kong Airport (HKG), Delhi Indira Ghandi Airport (DEL), Kuala Lumpur Airport (KUL), Tokyo Narita Airport (NRT), and Singapore Airport (SIN).



AIRPORTS IN AUSTRALIA

Home to the countries of Australia, Melanesia, Micronesia, New Zealand and Polynesia, the continent of Australia is often referred to as Oceania or Australasia, amongst other names and descriptions. Australia is the smallest of the world's continents, and the most southerly, once being joined to Antarctica almost 100 million years ago.

The country of Australia is enormous, with many of the main cities standing on the eastern coastline. To the southeast, New Zealand is split into two islands, North and South.

Some of the most notable airports in the continent of Australia include Auckland Airport (AKL), Canberra Airport (CBR), Brisbane Airport (BNE), Melbourne Airport (MEL), and Sydney Airport (SYD).



Australia&nbsp New Zealand

AIRPORTS IN EUROPE

The busiest airports located in the continent of Europe include London Heathrow Airport (LHR), Paris Airport (CDG), and Madrid Airport (MAD).



AIRPORTS IN LATIN AMERICA

Often referred to as South America, the continent of Latin America crosses the equator, with the majority of its landmass lying in the southern hemisphere. Standing between both the Atlantic Ocean (to the east) and the Pacific Ocean (to the west), Latin America is linked to North America by a small strip known as the Isthmus of Panama.

Noteworthy airports in Latin America include Rio de Janeiro Galeao Airport (GIG), and Sao Paulo Congonhas Airport (CGH).



AIRPORTS IN NORTH AMERICA

North America is home to many of the world's most famous cities and stands to the south of the Arctic Ocean, to the west of the North Atlantic Ocean, and to the north of the Caribbean Sea.

With an estimated population approaching 500 million, North America is home to Canada - to the north, Mexico - to the south, and the United States of America (USA) - in the central region.

Major airports in North America include John F. Kennedy Airport (JFK), Los Angeles Airport (LAX), Chicago O'Hare Airport (ORD), Philadelphia Airport (PHL), San Francisco Airport (SFO), Washington Dulles Airport (IAD), and Toronto Pearson International Airport (YYZ).



Canada&nbsp Mexico&nbsp USA